At long last, we take the final step in our quest to celebrate positivity in the RPG community by way of RPGaDay. 31 days filled with provocative and often challenging word prompts. Today's word… the final word for 2019… is a fitting one. The word is LAST.
The first thing that came to mind was the uncertainty of life and how often we perform a task, never realizing it is the last time we will do so. There's a meme that's been going around that really places this in a context that is heartbreaking in a way, but also somewhat joyous.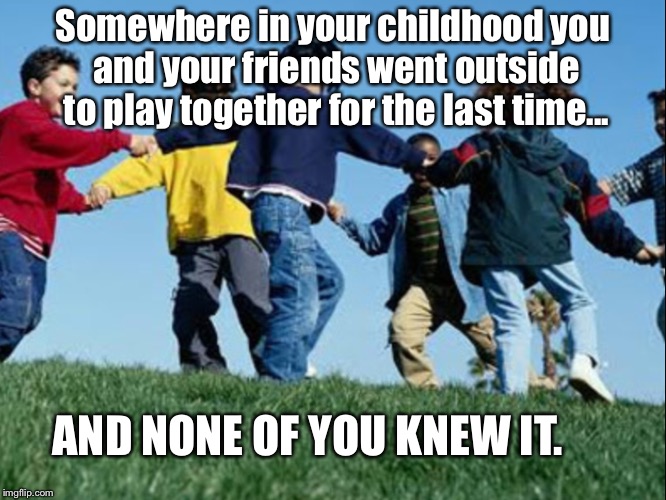 In the last couple of years, we have lost two of our dearest friends prematurely. Both of their deaths were sudden and unexpected, both were taken far too young.
The last moments I spent with both followed a game session. Both I was able to hug and tell them I loved them. With both I had made plans to see them again soon. But that didn't happen, because it was the last time I gamed with them, the last moments I got to spend with them on this earth.
Will there come a day when we gather around the gaming table for the last time and not know it, as the meme suggests? No, I don't believe so, at least not for a long time coming, because our RPG Club is active and alive.
We invite new people to join us and we are filled with young and old players alike. Yes, these young players will inherit the group once we older veterans shuffle off our mortal coils, thus the Oak Hill RPG Club will continue on, rolling dice once we old timers join our friends in the hallowed hall of Valhalla.
Someday, it will be the last time I play D&D with my son and my friends. I hope I know it when it comes, but in case I don't, I will continue to try to play every game like it's my last.
And, should this be my last post on this website, thanks for joining me on this journey… May all your dice rolls encourage something wonderful to happen.
— Bob Freeman